DM 4093 – Original # 20 / 304ss kit / 4mm
This is decking kit is perfect for 18 to 20 square metres (SQM) of decking depending on the width of the board. The kit comes with 304 SS Self Drilling Timber Screws for high quality corrosion resistance No Nails – No Screws in the surface.
Can only be purchased with Deck-Max Timber
Deck-Max "Original" Biscuits can be used on all decking including composite decking, bamboo and all hardwoods suitable for decking.
Decking size can from 65mm wide x 140mm wide and from 19mm thick to 30mm thick. Always check the Kiln dried certification to be sure the material chosen is stable.
You have two choices – either insert the groove with a biscuit cutter OR have the board pre grooved by a local machine shop / timber company.
DM 4093 – Original # 20 Kit Features:
18 – 20 Square Metres of Secret Fixings and Screws
Plus, tools and accessories as listed below
Dedicated Support and One Stop Shop
Life Time guarantee on our decking clips
With no nails or Screws in the surface it is SO easy to refurbish.
50% less screws.
DM 4093 – Original # 20 Kit Includes:
400 / Biscuits
440 / Screws (to suit timber frame))
30 / Butt Joiners (used for decking not end matched & picture framing & Mitre corners)
Combo Pack – Incl. 50mm square drive bit + 3mm x 100mm drill bit
1 x 50mm Square drive # 2
1 x 100mm x 3mm drill bit (Use for pilot hole)
4 x Bostik UltraSet Adhesive (Used as an acoustic membrane)

Additional information
| | |
| --- | --- |
| Weight | 6.3 kg |
| Dimensions | 36 × 19 × 17 cm |
Always round up the square meter coverage to the next kit size so you do not run out especially when tendering on jobs.
When the boards are pulled tight, the gap setting is 4mm – however if the deck is close to ground or timber is going to expand then simply insert a packer on top of the biscuit as you are clamping – simply cut a piece of ply into small block of say 5mm or 6mm thickness, this will provide expansion and contraction for the decking. When assembling you can leave them in or take them out as you go – I often leave some in to keep the gap setting consistent especially when a board you have purchased is bowed and will want to close up when the gap is wider than 3mm.
If the boards are bowed too much insert wood plug and screw to hold that board so it does not want to move – retaining a concealed fix.
Always use the Deck-Max clamps to maintain the set gap and allows to settle all joints correctly and tight.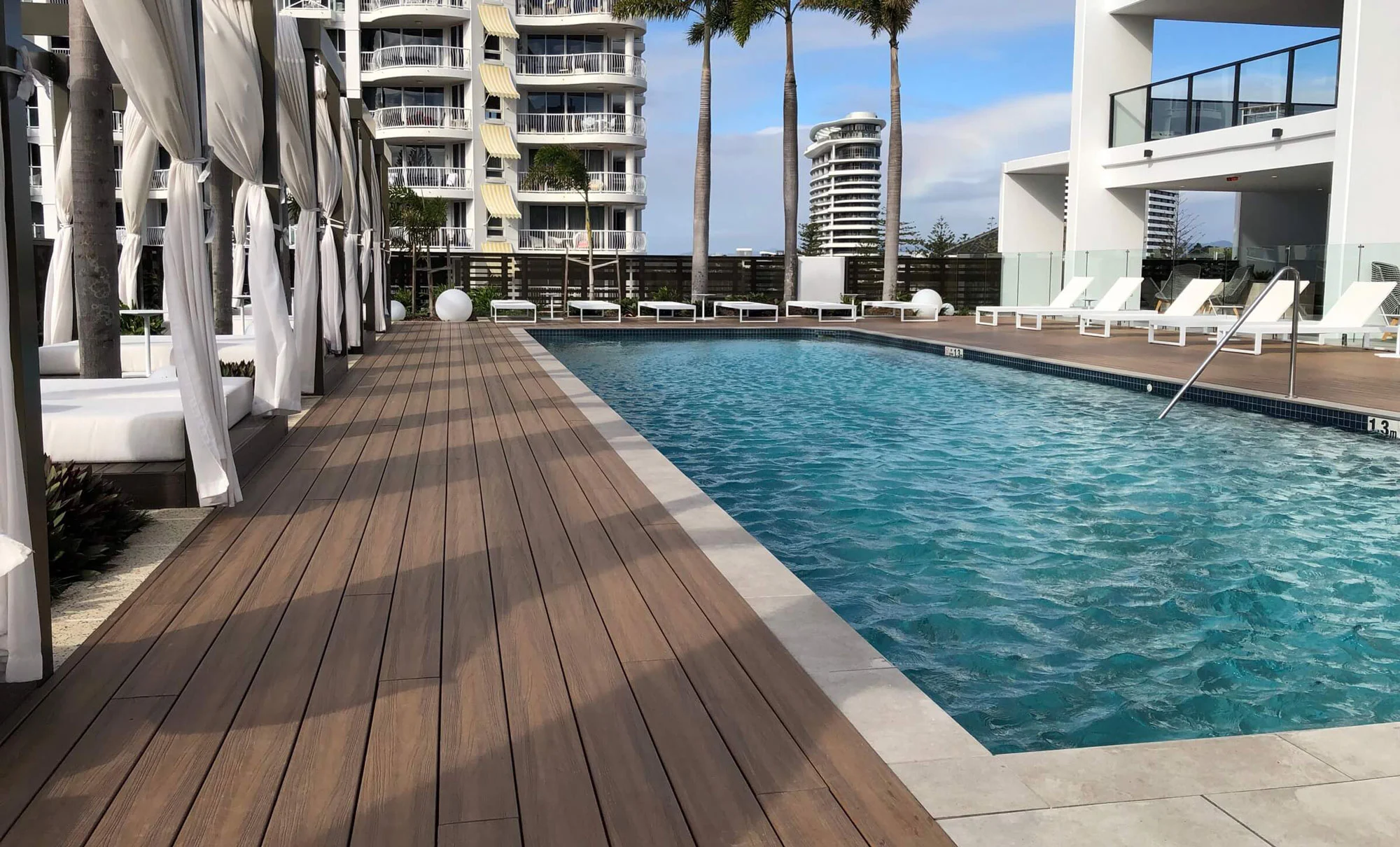 Contact our
Decking Specialists
Today!
Stunning Decks With Deck-Max Products
Or, Contact us via the form