Adding a deck is a simple home improvement project that can add significant value to your home. There a number of reasons that you may be considering improving your home: maybe you are thinking of selling and want to make your house more appealing to buyers, or perhaps you've found your "forever home" and want to ensure it's the house you've always dreamed of. Whatever the reason, a deck will add more living space to your home, which will both make life more enjoyable for you now and add an attractive selling feature for the future.
A deck will increase the value of a home

Increasing the amount of living space in a home is guaranteed to add more value. Australians love spending time outdoors with friends and family and will certainly pay extra to do so in their home. An outdoor entertainment area, such as a deck, may cost between $10,000 to $25,000, but can add an extra value of up to $100,000 to a home. Moreover, experts say that a deck will offer a 100% return in value. Adding a deck to your home will set it apart from other houses in your area and is sure to sell for a higher price than a similar home without one.
A deck will make your home more functional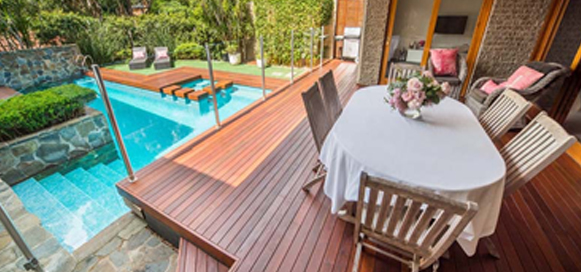 Outdoor entertaining areas can be used year-round to add functional value to your home. A deck will give you more outdoor living space, perfect for BBQ's, pool parties and other outdoor hangouts with loved ones. A deck is an ideal place for families to sit and relax after a long day, or to simply spend quality time together. A nice day, as so frequent in Australia, can be enjoyed more in a home with a deck. Not only will a deck make your home more liveable but can make a house look more visually appealing. Evidently, installing a deck is a great investment, especially if you are planning to live in your home for a long time.
A deck will make you love your home more
It is clear that adding a deck will make a home more liveable. In fact, decks add value simply because of the emotional connection people form with their outdoor living areas. One study found that 77% of homeowners had a greater desire to be home after adding a deck to their home. Additionally, 51% feel an increased sense of enjoyment when they are home and 77% feel a major sense of accomplishment when thinking about the project.
Clearly, a deck will add value to your home in a number of ways. Not only can a deck add significant value to prospective buyers but are the perfect way to add functional space to relax and spend time with family and friends.
Looking to improve your home's liveability with a deck? Deck-Max supplies quality decking in natural timber or low maintenance composite materials.
Contact us today for more information on how you can build the perfect deck for your home.
Deck-Max™ is 100% Australian Owned and Operated and has being servicing the building industry since 1985. Deck-Max™ manufactures 100% of its products which includes quality control, product specifications, development of all designs.