DM 4666 - em pro 5mm # 20 Kit 304SS
Can only be purchased with Deck-Max Timber
Patent Protected Clips System  - Deck-Max tm
Timber  Frame kit for approx 20 sq.m.
Coverage between 18 & 22 sq.m. (depends on width of board)
– 400 / Biscuits
– 440 / Screws (to suit timber frame)
End match clips – 40 pairs
– 30 / Butt Joiners (used for decking not end matched & picture framing & Mitre corners)
Combo Pack
-                 1 x 50mm Square drive # 2
-                 1 x 100mm x 3mm drill bit (Use for pilot hole)
– 1 x Bostik UltraSet Adhesive (Used as an acoustic me
Patent Protected Clips System  - Deck-Max tm
The Deck-Max Pro biscuit system with End matching is specifically a one stop package that includes this superior biscuit system.
Decking size can vary from 90mm wide to110mm to 135mm wide and 19mm thick. This biscuit can only be purchased from Deck-Max (pre grooved both side and end matched both ends.) ends are also under cut.
This decking does not have to join on joists – where ever the board lays you can simply insert the e/m clip and continue then the only cut is the last board in each row which should be over 500mm so it is the start of the next row and spans at least 2 x joists.
Note: End match decking reduces waste from 12% to 5%. End Match decking reduces installation speed by as much as 30%.
Additional information
| | |
| --- | --- |
| Weight | 6.3 kg |
| Dimensions | 36 × 19 × 17 cm |
Patent Protected Clips System  – Deck-Max tm
Always round up the square meter coverage to the next kit size so you do not run out especially when tendering on jobs.
With this end match decking it does get installed in a different way – please view the videos for Pro biscuit installation instructions:
Always off set your joins like internal flooring – however they do not line up like old fashioned decking used to try and line up the joins – they will be random.
To Start – select your starting point and clamp first board into position – set to string line and prepare the outside fixing using the Counterbore tool and then insert screw & the wood plug – the wood plug and counterbore tool are essential in how you start and finish the installation.
When the boards are pulled tight, the gap setting is 3mm – however if the deck is close to ground or timber is going to expand then simply select the 5mm Clip – OR simply cut a piece of ply into small block of say 4mm or 6mm thickness, this will provide expansion and contraction for the decking. When assembling you can leave them in or take them out as you go – I often leave some in to keep the gap setting consistent.
Decks close to ground – make sure you have ventilation from the sides and under the deck. Ask us about our Data sheets on decks close to ground.
Always use the Deck-Max clamps to maintain the set gap and allows to settle all joints correctly and tight.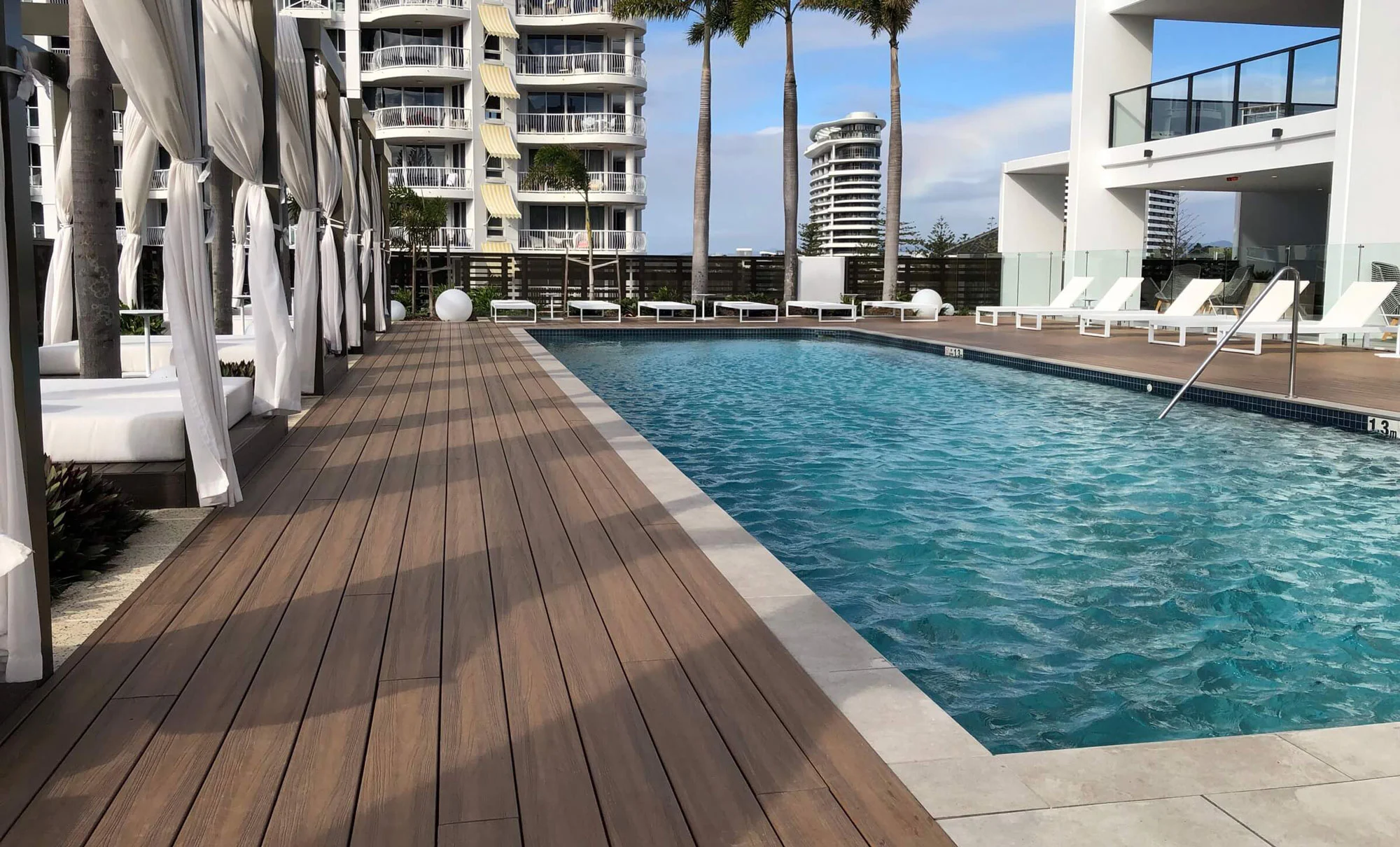 Contact our
Decking Specialists
Today!
Stunning Decks With Deck-Max Products
Or, Contact us via the form