For years, Deck-Max has been at the forefront of innovation within the timber decking industry. In the past, most of our products have revolved around hardwood timber decking. However, Deck-Max is not purely a timber decking company. We are a decking materials company. For those already in the industry, it comes as no surprise that there are more options out there for decking materials than traditional hardwoods. Other decking materials include the exciting, new composite timber decking, beautiful bamboo, and even steel. Here, we will go over these different timber decking and other decking materials in a review type style.
Treated Pine for Timber Decking
Treated pine has long been the standard for timber decking projects in Australia and other parts of the world. It has always been a stable, relatively low-cost decking material. It is estimated that some 80% or so of decking is, in fact, treated pine. Pine is not a hardwood like other timber decking materials. Instead, it is a dense softwood with chemical preservatives forced into its fibres. The chemical treatment varies based on the particular brand of treated pine you are purchasing, and the specifications do vary between the many different kinds. The chemical treatment to the pine allow it to be suitable for use both in and out of the ground. As it is the most common construction material for decking, it is available in several different sizes to meet all standards and requirements.
Some important things that you should keep in mind for safety when working with treated pine include:
Wear gloves, long pants, and a long-sleeved shirt
Wear safety glasses
Wear a mask to cover your mouth and nose
Do not burn scraps
Do not allow children or pets to play with scraps
Follow local regulations in regards to disposing of toxic materials
Hardwood Timber Decking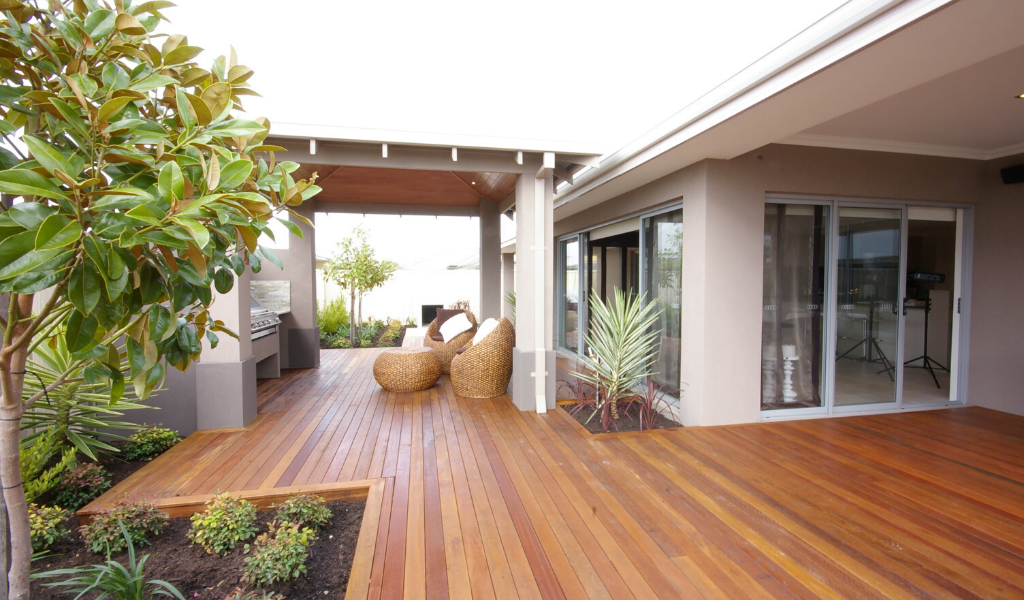 Where treated pine is relatively inexpensive and readily available, hardwoods for timber decking can be quite the opposite. Hardwoods are not as plentiful and are harder to cut and manufacture. As a result, the various hardwoods available for decking materials are more costly and can be limited in supply. If you are considering using hardwood, be sure that it is within your budget and that your supplier can deliver all the necessary quantities. In fact, it is recommended that you have all of your timber delivered before starting on your timber decking project. Failing to do so could have you starting on your construction only to find out partway through that the order you made will not be filled for quite some time. No one wants to have a deck half-finished while waiting for the timber to show up or trying to find a replacement.
The other issue is, if you get your timber in multiple shipments, it is more likely that the pieces are from different batches. This could make a difference in density, composition, strength, or colouration. Worse, if the supply completely dries up, you may end up having to go in a completely different direction, choosing a different style timber for the job. In this case, hopefully, you haven't already started laying the timber decking, so you don't have any to rip up so that the whole deck will match. So, take it from us, get your timber delivered ahead of time.
Deck-Max carries a variety of hardwoods for our discerning clients. The reason for this is because, while more costly than treated pine, the material is of better quality. In terms of being of better quality, we look at it from a few different angles. First, from the overall appearance. Hardwoods simply look better than the inexpensive, mass-produced treated pine. Second, the hardwoods are stronger. They will support more weight and last longer than treated pine when properly maintained.
Aside from the associated monetary cost with purchasing hardwood timber decking, there is an increased cost in labour. The denser material makes it harder to work with the hardwoods, which typically drives the time of construction upwards. However, we fully believe that the end cost is worth it when you want a beautiful deck you can be proud of and that will last through the years.
Deck-Max currently offers Merbau, Spotted Gum, Black Butt, Iron Bark, and Blue Gum end-match timber decking.
Steel Decking Materials
Steel decking materials are sometimes used for the support structure of a given deck. This is especially true for commercial projects, coastal areas, and inclement weather (high wind) areas. Some structures will actually be required by local regulation to have the support made from steel. The process has come a long way of the years. The steel components are typically manufactured to have joining brackets and be exact measurements. The pieces will need to be ordered and delivered ready to use, as it is not really prudent to try and cut steel on-premises. With these jobs, using the brackets and appropriate bolting and fastening methods, very little or no welding is required.
Composite Timber Decking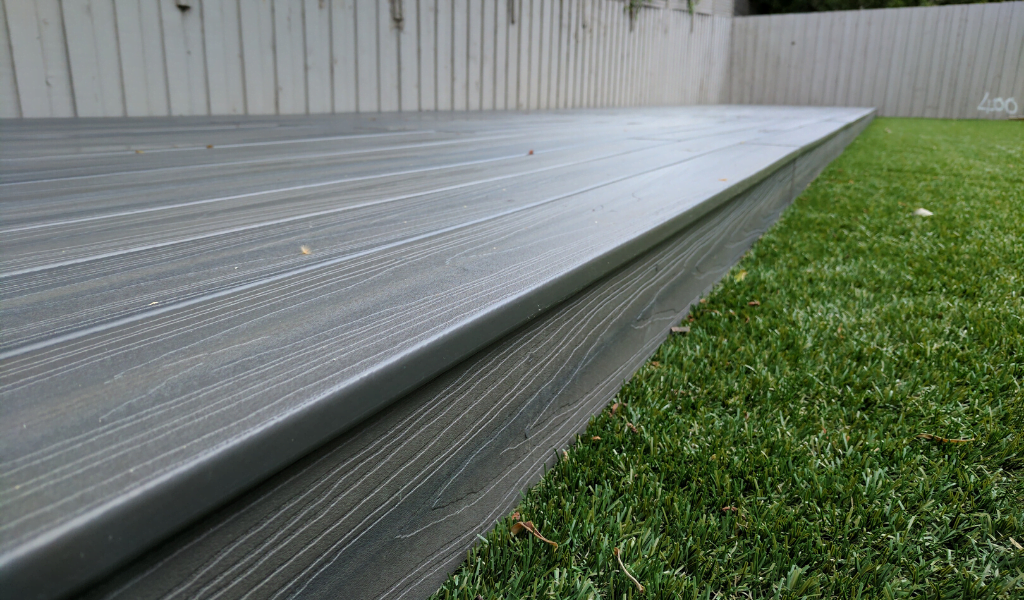 A relatively new addition to the decking materials family, composite decking offers advantages that others cannot. Composite timber decking is—as its name would imply—comprised of several materials to make a single board. Composite timber decking is only engineered with the intention of serving as decking boards and trim pieces. It has not been engineered to be strong enough to serve as support structure components for the deck.
Composite decking is made from a mixture of waste wood and recycled plastic with a variety of chemical binders. These boards are light and easy to work with. They come in a variety of gorgeous colours. They require no staining. Most also come with a warranty against fading and staining, if properly maintained. Composite timber decking is cut, drilled, and installed just like other forms of timber decking. You also need not worry about harmful chemicals as what is used with the treat pine decking.
The one major downside to the composite timber decking is the cost. This does tend to be an expensive alternative to other timber decking solutions. The reason is multifold but mainly has to do with the manufacturing cost. One thing to keep in mind, however, is the ease of working with and maintaining the composite decking. You will not be spending the money on finishes over the years, because it is pre-coated. You also have a warranty that is unsurpassed by other timber decking materials. You can look forward to a Deck-Max composite timber decking offering in the very near future.
Bamboo Decking Materials
While bamboo is a type of wood, it is rarely considered timber. Bamboo offers a number of advantages. It is relatively inexpensive. Its natural colour and sheen are coveted for a variety of indoor and outdoor projects. It is also a low maintenance product.
For those who have taken the time to consider the environmental effects of deforestation, bamboo decking presents an excellent solution. Where other timber decking comes from trees that must grow for several decades before being cut down, with millions of acres being lost every day, bamboo comes from trees that are usually harvested between 5 and 8 years. It grows swiftly, produces more oxygen than other types of trees. Overall, it is a more environmentally friendly decking material.
The major problem with bamboo decking is that it has shown repeated issues in the harsh Australian climates. It simply does not last as long as other forms of timber decking. It is pre-disposed to wear and rot. On the other hand, it has a high tensile strength and shows the flexibility that is coveted in outdoor project timbers.
However, Deck-Max bamboo decking does not suffer from the same failures as traditional bamboo decking. It comes pre-finished, too. That is saved time and money right there, but wait until we can tell you more about this fantastic new product. It is an expertly engineered product sure to take the decking industry by storm.
Deck-Max Timber Decking Innovations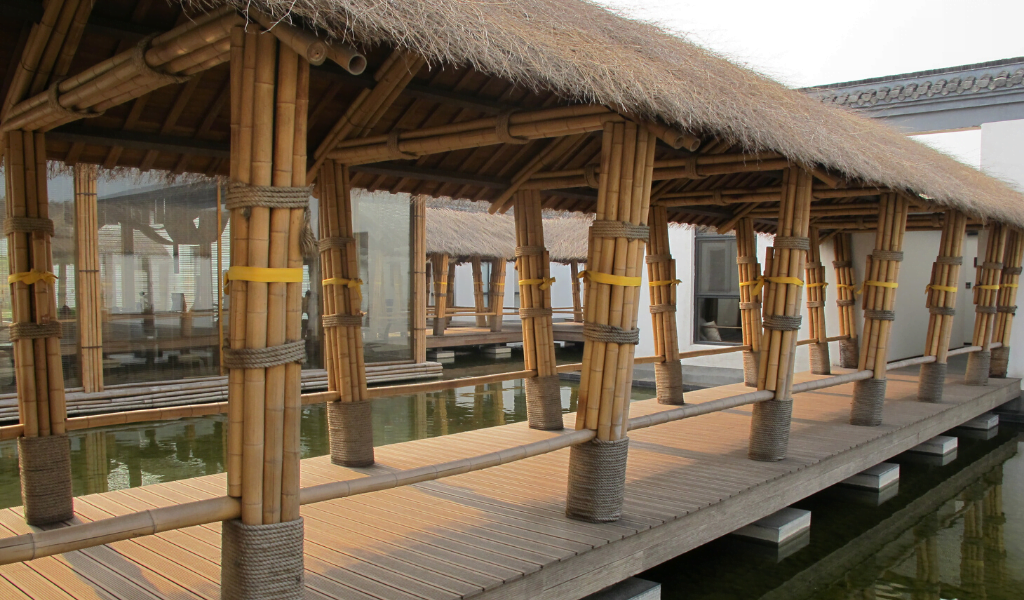 Once again, Deck-Max innovation leads to solving a problem tradesmen have been facing for years. The Deck-Max bamboo decking materials are sure to please. Just like our Original and Pro Deck-Max decking biscuits, we are hard at work finding new and better ways to build that deck. Saving you time and money is our business.
If you have not yet discovered the Deck-Max difference and you are serious about building your own timber decking or you are in the trades, you owe it to yourself to check out the advancements we have brought to the industry. Our "no nails" solution for timber decking is revolutionary. Plus, we only keep coming out with more, too.
Deck-Max™ is 100% Australian Owned and Operated and has being servicing the building industry since 1985. Deck-Max™ manufactures 100% of its products which includes quality control, product specifications, development of all designs.